What to expect at Your Maryland Bankruptcy Meeting of Creditors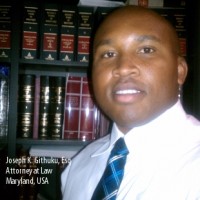 As you can expect, when you file bankruptcy in Maryland you will be required to attend one formal hearing where your testimony is taken under oath. The hearing that all debtors have to go to is known as the meeting of creditors.
Our Baltimore bankruptcy lawyer here at 410law.com is quick to ease the concerns of potential debtors regarding the meeting. First, the goal of the meeting is to review the information and documents submitted to court on your behalf. The court appointed trustee is there to make sure that the information is accurate and complete. Therefore, if you review your information thoroughly with a Maryland bankruptcy lawyer before and after your case is filed you should be okay.
Secondly, it is an opportunity for your creditors to question you about your case as well. Creditors receive a notice of the meeting of creditors and have a right to participate in the meeting. It is more likely that a secured lender such as auto loan company or a party to a divorce or a former business partner will show up as a creditor. It is very rare that a credit card company, personal loan provider or medical creditor will show up.
In Baltimore, the meeting of creditors are held at the US District Courthouse Building in room 2650 on the second floor.
In Greenbelt, the meeting of creditors are held at Ivy Lane on the 6th Floor. As most bankruptcy lawyers in md know, meeting are also held in Salisbury for Southern Maryland residents and Hagerstown for Western Maryland residents.
Our bankruptcy lawyer in Maryland with tell you that even though it is a formal proceeding under oath, the meeting of creditors are held in an large office type room with plenty of other debtors and bankruptcy lawyers in the room. A typical day will see the the Chapter 7 trustee handle as many as 10 or more cases an hour. In fact, unless you are the first debtor called you will be able to listed to a couple of cases in your slotted hour.
IDENTIFICATION REQUIRED!
Before your meeting can proceed, you are required to show your Social Security card and a picture Idfor verification of your identity. A W-2 or 1099 issued by your employer can be used in place of the Social Security card.
The trustee will question you first and those questions will typically include:
Whether your address is still the same as on the petition
Whether you still work for the same employer
Your marital status
Your dependents
Whether you have charged credit cards or take out new loans within 90 days of your case being filed
Whether you stand to inherit anything in the case or in another matter
Why'd you file for bankruptcy
Whether you have you ever filed for bankruptcy before
Who are your dependents
Whether you have owned a business in the last 3 years?
Whether you have sold anything on ebay or similar auction sites
What is your martial status
– Whether you have sold or given away any property
Where you have paid a single creditor more than $600.00 in the 90 days before your case was filed?
Whether any one owes you money?
Whether you have
– Have you been involved in any accident or injury which gave rise to a law suit
– Have you been the beneficiary of a will
– Have you read the schedules before signing
– Has anything changed after the filing of your case
If the trustee is satisfied and does not require further investigation of your case then he or she will concluded the meeting. But before doing so, creditors who are present have the opportunity to question you as well. This is exceedingly rare in chapter 7 cases because they are often no assets cases. Creditors are likely to show up in instances where a reaffirmation agreement on a car loan with a local lender or credit union and in instances where debtor is in divorce proceedings. In Maryland, MECU Credit union has a representative attend hearings to get information from the debtor about reaffirmation agreements.
If the trustee has follow up questions or investigation then they will continue the meeting. While this is never a good sign, it is also not the death of your bankruptcy case. Sometimes all is needed is a couple of weeks for the trustee to verify something and you are not required to attend another hearing.